Natural Eye Makeup
Find natural eye makeup for contact lenses made from all natural ingredients that won't irritate sensitive eyes.
Contact lens wearers need to be more careful when it comes to using eye makeup as many laboratory-produced products can irritate sensitive eyes.
Powder eye shadows are especially problematic as particles can drop onto the contact lens and get underneath the eye, causing potential infections.
Eye Makeup for Contact Lenses
I've been using eye makeup for contact lenses for many years and had no real problems apart from the occasional itchy eye. I even use Rimmel eye liner
on my lower lids which should really be avoided, as this is a sure-fire way for tiny particles to get onto the lenses.
I always look to buy hypoallergenic, all natural products so that if any eye makeup does get on the lens, it shouldn't do any harm.
While I don't often wear makeup as I'm always doing sports, I'm always on the look-out for good value all natural, allergy free eye makeup.
And I LOVE this blusher which doubles as an eye shadow from Organic Wear:
A 100% natural origin blush which, as I love pink and natural tones, I also use on my eyes! The product is formulated with 16% certified organic ingredients, including jojoba seed oil and corn starch to moisturize and mattify the skin. It contains Eco-blend® featuring OrganiSoy® and Eco-Olive®:
Organi-Soy® helps to even out skin tone and the texture restores skin smoothness.

Eco-Olive®: is a natural antioxidant to help shield skin from harsh environmental aggressors.
and it comes with a mirror and natural goat hair brush all for just $9.59.
Mascara for Sensitive Eyes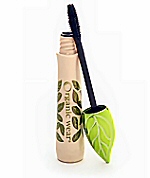 Organic Wear 100% Natural Mascara
This Organic Wear 100% Natural Mascara is also a favorite of mine, and it looks as good as it feels.
It is 100% free from yucky chemicals, laboratory produced preservatives, colors and fragrances and GMO's (horrible organisms that have been genetically modified).
I love the beautiful packaging of this 5x lash boosting mascara for sensitive eyes and it's approved by opthamologists for anyone who wears contact lenses.
Oh and it costs just $7.99 with a 20% saving from the Drugstore.
---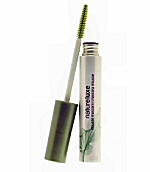 Covergirl Natureluxe Mousse Mascara
Covergirl Natureluxe Mousse Mascara
comes in 4 different shades and is made of natural beeswax and tapioca rather than horrid synthetic polymers to help make it lighter.
This natural eye makeup mascara is ophthalmologically tested and comes off easily with just a little soap and water.
You can save 20% at the Drugstore and buy this natural mascara for just $6.79.
Tip:
Save money on natural eye makeup from the brand new
Covergirl Natureluxe Collection,
a lovely affordable range of products made from all natural ingredients - not a synthetic polymer in sight!
Related pages: