Mascara for Sensitive Eyes
Find the best mascara for sensitive eyes, affordable, made with beeswax and very few chemicals.
I don't wear a lot of make up, mainly as I do a lot of sport and mascara and eye liner just doesn't gel with sweat and my contact lenses!
But I do apply a little eye shadow, eye liner and mascara when going out in the evening. The problem with mascara is that it can often flake and the tiny particles are SO irritating if you wear contact lenses!
In the past I've used expensive brands of mascara like Lancôme as they were the only ones I could find that were kind to contact lenses and didn't flake and, to be honest, I'm too lazy to go hunting for new cosmetics when I hardly ever wear make up anyway.
But now I'm older, I'm keen to use only
GREEN
, natural and
ORGANIC
products and there are plenty to choose from, aside from the expensive big brands which are pretty much a rip-off anyway.
Safe Mascara for Sensitive Eyes and Contact Lens Wearers
I found this mascara for sensitive eyes in my local pharmacist. It caught my eye as I really liked the packaging but realized it was pretty eco-friendly product too!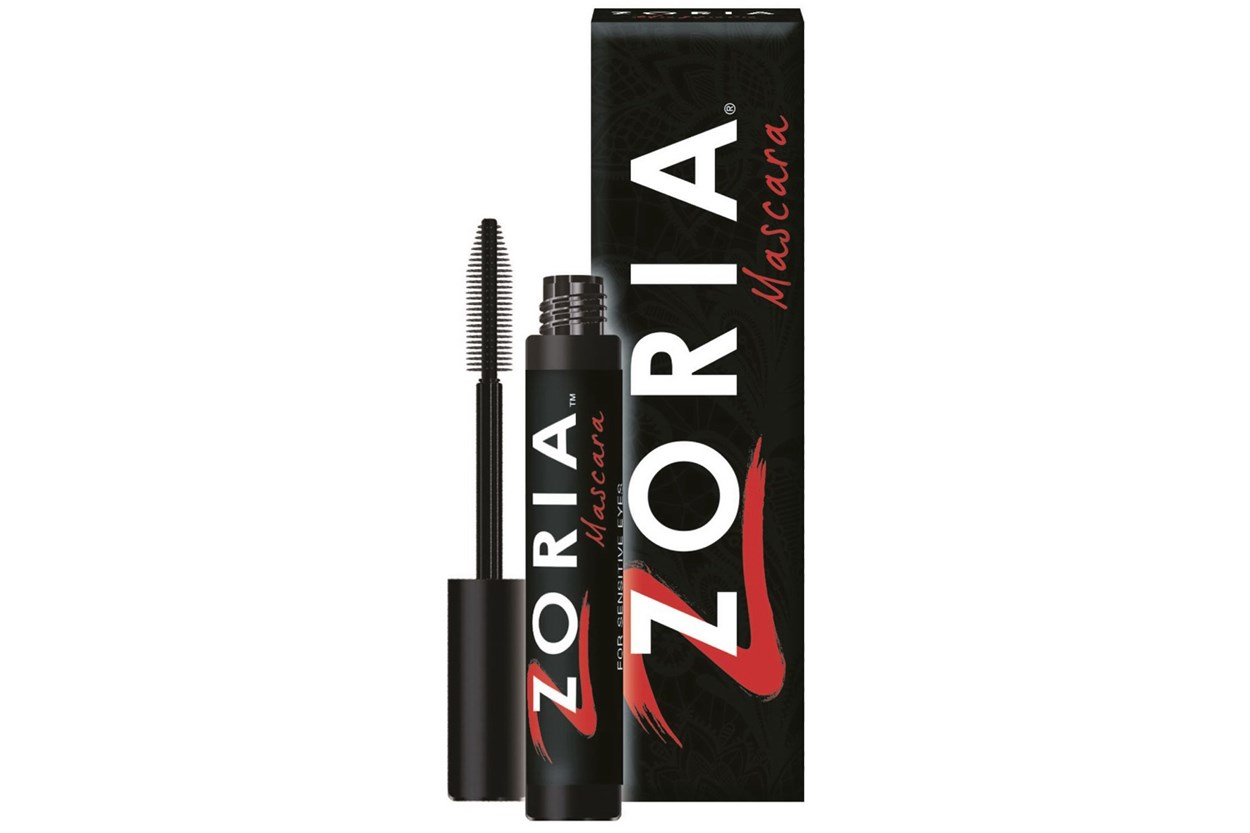 Zoria Sensitive Eye Mascara
Zoria Sensitive Eye Mascara is perfect for contact lens wearers and those with light sensitive eyes.
It contains beeswax and very few horrible chemicals, making it kind to sensitive eyes
This great mascara for sensitive eyes comes with stylish packaging and does not clump or flake causing irritation for contact lens wearers.
I really like this mascara and I've had no problems with any smudging plus other reviewers online rate it highly too.
Sensitive Eyes Mascara
Why does a lot of make-up irritate your eyes and sometimes cause pain if you wear contacts?
Well, traditional mascara contains the following laboratory-made ingredients:
Synthetic solvents that can cause dry, brittle lashes.
Synthetic polymers that can cause lash clumping and build-up on the mascara brush.
Synthetic preservatives used to preserve the product on the shelf and at home.
Synthetic fibers used to volumize can cause eye irritation.
Synthetic color pigments.
Petroleum by-products that can cause irritation too.
The Zoria mascara for sensitive eyes above contains beeswax and water plus only a few other chemicals. I'd prefer it to have no chemicals at all, but pure organic mascara is hard to come by especially here in Cyprus, so I'm happy with the Ocusoft brand until I find a pure organic option.
Related pages: