Cheapest Contact Lenses in 2021
Find the cheapest contact lenses in 2021 and get 20% off forever plus FREE shipping.
We all could do with finding the cheapest contacts in these challenging Covid-19 times right?
As I order all my contact lenses online I'm always on the look-out for the cheapest contacts you can buy on the market.
Over the years, most online retailers have matched their prices with other online contact lens stores, so once you have found a contact lens retailer that you like with consistent fast delivery and the cheapest contact lenses prices and delivery for your country, then why look any further?
Well I've just discovered a brand new service from AC Lens called Lens Subscription where you set up a regular delivery of your usual contact lenses and EVERY future order is at a 20% discount! Even better, you get FREE shipping with each order, no matter what the size is.
TIP: You can also save 20% off the very first order with AC Lens if you are a new customer - just key in the 20% coupon code shown at the top of every contact lens page.
Cheapest Contact Lenses via Subscription
How to set up your subscription service with AC Lens to get 20% off all future orders plus FREE shipping.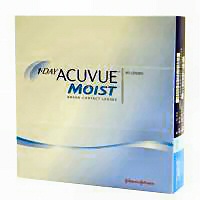 Acuvue Moist Daily Disposables
$58.99 per box of 90 lenses - But only $47.19 via Subscription
It's really simple and covers ALL the popular contact lens brands. Just find the the contact lens you usually wear, for example, Acuvue Moist, my favourite daily disposable soft contact lens from Acuvue, shown opposite.
Go to the relevant page on the AC Lens site (you can quickly search by Brand/contact lens type or color) like this page for Acuvue Moist.
After you choose the relevant power and diameter, you will see the Lens Subscription option underneath where you can choose how often you want to receive your contact lenses.
If in doubt, read the help question mark for a full explanation of how the Lens Subscription service works:
Once you are signed up, your contact lenses are shipped automatically and you can cancel at any time. They will send you an e-mail 10 days before each shipment in case you need to change your prescription or anything else.
20% off every future subscription order
Free standard shipping within the U.S.
Never-ending supply of contacts
Cancel at any time
Cheapest Contacts
In my example above, a three month supply of Acuvue Moist saves me almost $23 and I don't need to waste time re-ordering every few months.
If you wear a much more expensive lens like Proclear Multifocal Torics, which cost $148.99 per box, then you can save almost $30 per box!
These have to be the cheapest contact lenses available on the market in 2021 when you use the AC Lens Subscription service. Why not give it a try?
Related pages: