Color Contacts for Dark Eyes
Find the right color contacts for dark eyes - opaque lenses that completely change your eye color.
If you have dark eyes like deep brown, green or dark gray, then color enhancing lenses won't work as the natural eye shade will not show the color that well.
That's why dark eyes ideally need opaque color contact lenses that completely change the color of the eye.
Those with pale eyes can, of course, wear them too although some people may find the effect is too stark and unnatural.
Opaque Color Contacts
Wearing colored lenses used to be very fashionable, so much so that all the major brands offered a good selection of easy to wear, affordable colored contacts. Some brands like Acuvue no longer offer coloured lenses, but the popular Freshlook brand from Alcon offers a wide variety of colors to choose from. Alcon also offer daily disposable colored contacts with their Dailies Colors option. They are expensive at $35.99 for a box of 30 lenses, however.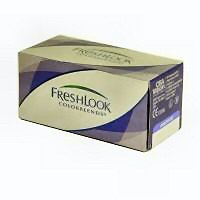 Freshlook Colorblends
One of the most popular colored contacts currently available for dark-eyed patients is Freshlook Colorblends. Suitable for light and dark eyes with a base curve of 8.6 and a diameter of 14.5. Popular colors include blue, green, gray and brown but there are also innovative colors like amethyst and sapphire.
Another possible choice is AirOptix Colors, also from Alcon. These monthly disposable lenses combine beautiful color with a highly breathable material for white healthy looking eyes, and a smooth surface for comfortable lens wear. The unique color technology blends with the eye color to provide a beautiful, natural appearance. AIR OPTIX® COLORS contact lenses are available in a range of beautiful colors, from subtle to vibrant.
Color Contacts for Dark Eyes - Dailies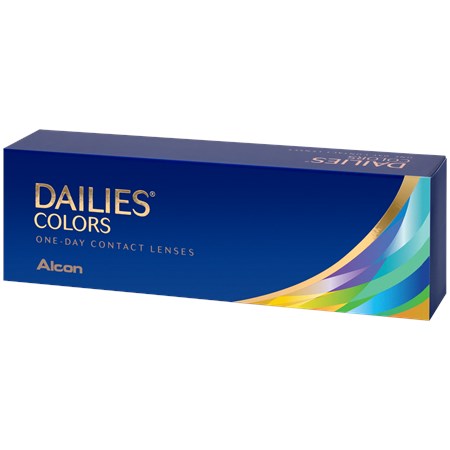 Dailies Colors - $35.99 per box of 30.
If you want a daily disposable colored contact lens, it will be more expensive and the only affordable option out there right now is Alcon's Dailies Colors.
DAILIES®Colors are a daily disposable contact lenses that deliver color enhancement* along with eye definition, making eyes appear bigger and brighter.
They are available in four colors to enhance both light and dark eyes - blue, gray, green and hazel.
*NB - these colour enhancing lenses will not create such a dramatic look in terms of eye colour change if you have dark eyes, but they will make them shimmer.
If you suffer from astigmatism as well as being short or long sighted
you can still wear colored lenses;
they are just more expensive as the mainstream brands of color contacts above do not have an astigmatism option...yet.
Related pages: