Colored Toric Contact Lenses
Where to buy colored toric contact lenses. Why major brands do not offer color toric contacts.
If you are searching for colored contacts and you have astigmatism requiring what is know as a TORIC lens, then the bad news is that you have very little choice as none of the major brands offer color toric contacts anymore.
The good news is that you CAN buy color lenses for astigmatism, but only from specialist manufacturers offering custom-made contact lenses. And anything made-to-order is going to be more expensive right?
You can skip straight to some best-selling custom-made colored toric lens options further down this page, but I'd like to give you some alternatives first.
Alternatives to Color Toric Contacts
A TORIC lens for astigmatism has to correct both the uneven curvature of your eye (which causes blurriness) and also either your short or long sightedness. Prescriptions can be complex, so adding a further layer of complication in terms of color is the main reason why most big brands have dropped toric colored contacts from their ranges.
If you only have mild astigmatism with a cylinder number below +/- 0.75, one alternative is to just use a single vision colored contact lens from a popular brand like Freshlook. While your vision may not be as crisp as using a toric lens, making your eyes "pop" with color may be more important to you, especially if you just want to look amazing for a night on the town.
If, however, you have more severe astigmatism with a cylinder number ABOVE +/- 0.75, then your choices are very limited. The only EXPENSIVE option is to consider having LASIK eye surgery to correct your vision and then just use a PLANO colored contact lens that has zero prescription.
Would you really want to spend all that money to correct your vision permanently and then STILL have to pay for colored contact lenses, just for cosmetic reasons? And go through the trauma of having a laser pointed at your eye? Ugh!
Buy Colored Toric Contact Lenses
If you want to go down the custom-made route to buy colored toric contact lenses, here are a few options to consider: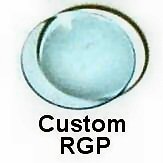 Boston ES custom RGP colored lens $35.99 per lens
The best selling Boston ES RGP colored lens is a custom made lens available in 6 different colours including ice blue, green and brown, that can be custom manufactured in a variety of forms including TORIC for people with astigmatism.
Made from a patented oxygen-permeable material that allows the eyes to breathe, these low-maintenance contact lenses are hard-wearing, retain their shape when you blink and provide much sharper vision than other types of lenses.
NB: RGP lenses used to be less comfortable to wear, but huge advances in technology mean that they now offer supreme comfort and breathabaility. If you are desperate to find a toric colored contact lens, then RGP lenses are your only current option.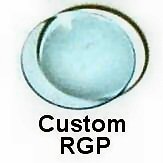 Fluroperm 30 custom RGP colored lens $33.99 per lens
The equally popular Fluroperm 30 RGP lens comes in 6 colors including 3 sparkling shades of blue. It is custom-made in non-sphere shapes like Toric, Bi-toric and Supercone for patients with varying degrees of astigmatism.
There is an additional charge as for all custom Toric contact lenses which will vary according to your prescription.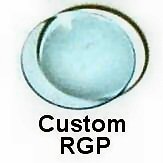 Optimum comfort custom RGP lenses $33.99 per lens
The technologically advanced Optimum Comfort RGP lens from Contamac represents the culmination of years of serious investment in research and development. These lenses are made from enhanced performance RGP materials offering advanced comfort and numerous other wearer benefits. Available in 4 colors, this custom RGP lens has some great reviews. Just follow the above links to find out more.
It is hard to find colored toric contact lenses, but hopefully you now have some better information to decide what is right for you.
Related pages: