Discount Colored Contact Lenses
Find best prices on discount colored contact lenses and where to buy online from trusted optical retailers.
It's fashionable to change the color of your eyes as often as your make up or your clothes these days.
Buying products at the cheapest possible price is also high on the list for many consumers in the current economic climate.
Buying some products at a discount sometimes means accepting poorer quality, but in the contact lens market, this is not the case as there are hundreds of online optical retailers offering great discount color contacts from the best and most popular brands of contact lenses.
It's important, however, to buy discount colored contact lenses from an optical retailer you can trust. I've picked out some of the most popular colored contacts from AC Lens, the company I use for my everyday comfortable contact lenses.
I know their prices are the cheapest I've found for the lenses I use (1 Day Acuvue Moist ), so I compared their color contacts prices with some of the other big optical retailers like 1800 Contacts and, guess what, they're cheaper or the same price on virtually every colored lens.
Discount Colored Contact Lenses Online
Here's a selection of the most popular discount colored contact lenses online from AC Lens. Just click on the blue links to find out more.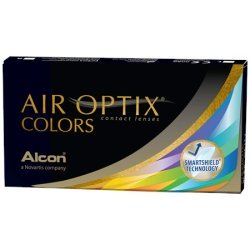 Air Optix Colors
6-pack $89.99, also available as 2-pack @ $34.99
Air Optix Colors are suitable for people with either light or dark colored eyes and are available in 12 different shades from blue through to green, hazel and amethyst.
They are a monthly disposable colored contact lens and are very comfortable as the unique 3 in 1 color technology provides excellent breathability through an advanced combination of oxygen and moisture for a healthy, natural feeling.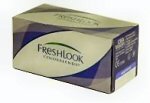 Freshlook Colorblends - $75.99 per box of 6 lenses
Freshlook Colorblends come in 12 different shades including turquoise and hazel and are a monthly disposable lens. They are wider in diameter at 14.5 than some lenses, so they do not suit everyone, but they are nonetheless popular due to the wide range of colors.
Dailies Colors - $32.99/box of 30 lenses
Dailies Colors are currently the only daily disposable colored contact lenses available. They are the best option for first time color contact lens wearers and also great for those used to wearing daily disposable lenses rather than monthlies. They cost $32.99 for a box of 30 lenses.
While 1-day disposable colored contacts are expensive, Dailies Colors are also available to buy in a value for money 90-pack for $68.99.
NB - Daily disposable contact lenses are much thinner than 2 week or monthly disposables, so may be better for first-time users, AND these lenses only have a diameter of 13.8 so may suit you better.
Non Prescription Colored Contact Lenses
If you want to change your eye color but you don't need to wear contacts to see better, then you can still do so by choosing non prescription colored contact lenses. Just visit an optician to get your eyes tested and FITTED for the correct lens type...
...you'll soon discover why as you have to know the size of lens required when you order according to the base curve and diameter of your eye. Confused? You will be unless you see an optician first.
And once you've seen an optician, you'll come away with, guess what, a PRESCRIPTION. Yes even if your eyes are perfect, to order discount colored contact lenses online, you still need a prescription a) to order the correct size and b) as some reputable online retailers ask you to send/fax/e-mail a copy of your prescription before you can place the order.
Your prescription will just say 0.0 for the POWER of the lens. All this means is that the lens has ZERO corrective power; a bit like putting on clear eye glasses to stop grit getting in your eyes.
Related pages: