Disposable Colored Contact Lenses
Find out what disposable colored contact lenses are available and where to buy them online.
Do you want to change your eye color using contact lenses but you need the convenience of a disposable lens too?
Well the good news is you can now buy disposable colored contact lenses, making it easy to change the color of your eyes whenever you want. This page talks about the most popular types of disposable soft contacts available to either enhance or completely change your own eye shade.
Cosmetic Disposable Colored Contact Lenses
Celebrities have encouraged the growth of cosmetic colored contacts as stars like Lady Gaga and Kim Kardashian use them like fashion accessories, changing their eye color according to what outfit they decide to put on in the morning.
Until a few years ago, colored lenses were only available as soft lenses, intended for annual replacement.
NB: When you add a layer of color to a contact lens, it becomes thicker and a colored soft lens intended to last for 12 months can be very uncomfortable to wear for many people.
But technological advances in lens materials have resulted in much thinner lenses intended for either daily, 2-weekly or monthly disposable use and these are now also available as cosmetic colored lenses.
That makes it easy for people to use colored contacts for fashion purposes as disposable soft lenses are relataively easy to get used to. You don't need to be short or long-sighted to wear them as they are also available in plano (zero power) form.
NB: Please note however that you still need a prescription from a qualified optician before you can order discount colored contact lenses online as the lenses need to be FITTED first.
Soft Disposable Lenses
Here are the most popular soft disposable colored contact lenses on the market at the moment: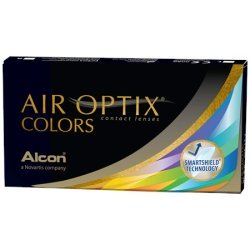 Air Optix Colors
6-pack $89.99, also available as 2-pack @ $34.99
Air Optix Colors are suitable for people with either light or dark colored eyes and are available in 12 different shades from blue through to green, hazel and amethyst.
They are a monthly disposable colored contact lens and are very comfortable as the unique 3 in 1 color technology provides excellent breathability through an advanced combination of oxygen and moisture for a healthy, natural feeling.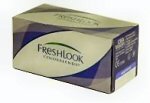 Freshlook Colorblends - $75.99 per box of 6 lenses
Freshlook Colorblends come in 12 different shades including turquoise and hazel and are a monthly disposable lens. They are wider in diameter at 14.5 than some lenses, so they do not suit everyone, but they are nonetheless popular due to the wide range of colors.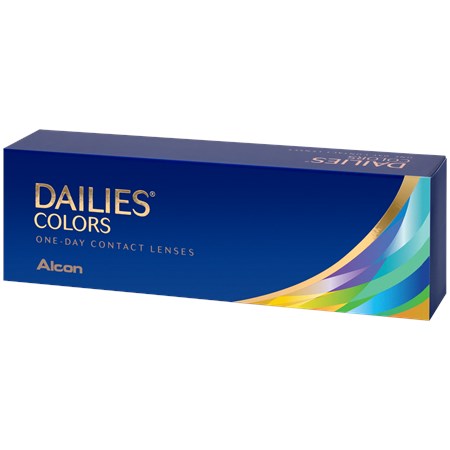 Dailies Colors - $32.99/box of 30 lenses
Dailies Colors are currently the only daily disposable colored contact lenses available. They are the best option for first time color contact lens wearers and also great for those used to wearing daily disposable lenses rather than monthlies. They cost $32.99 for a box of 30 lenses.
While 1-day disposable colored contacts are expensive, Dailies Colors are also available to buy in a value for money 90-pack for $68.99.
Daily disposable contact lenses are much thinner than 2 week or monthly disposables, so if you've never worn lenses before as you just want them for fashion purposes, they be a better option as they are much easier to get used to.
Related pages: