Non Corrective Color Contacts
Where to buy non corrective color contacts. What are the best contact lens brands and what is the lowest price?
Are you looking to try colored contact lenses for the first time? While there are millions of people who wear contacts to correct their vision, for instance if they are short or long-sighted, there are just as many people who want to make a fashion statement by changing their eye color.
If you have perfect vision, you just want a colored contact lens that has zero power. And the good news is that there are several comfortable and affordable brands available from the biggest, most trusted names in the contact lens market.
Color Contacts without a Prescription
Here's some more information about the range of color contacts available without a prescription from the Air Optix range, made by Alcon.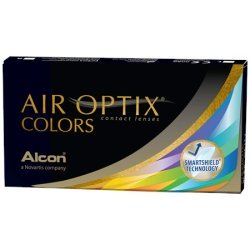 Air Optix Colors
6-pack $89.99, also available as 2-pack @ $34.99
Air Optix Colors are a monthly disposable soft contact lens available to buy either in a 2-pack form or a more economical 6-pack form as shown above.
They are color ENHANCING lenses that used to only be suitable for people with light eyes, mainly pale green, gray or blue, but Air Optix Colors come in 12 different shades to suit both light AND dark eyes.
Their unique 3 in 1 color technology blends with your natural eye color to provide a beautiful, natural appearance. AIR OPTIX COLORS contact lenses are available in a full range of beautiful colors, from subtle to vibrant, so experiment to see which color you prefer.
Non Corrective Color Contacts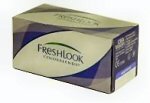 Freshlook Colorblends - $75.99 per box of 6 lenses
The other brand of non corrective color contacts most commonly chosen is Freshlook Colorblends.
They are very popular as they come in 12 different shades and they are a bit cheaper than Air Optix Colors.
Colorblends are sometimes advertised as a monthly disposable lens, available in both prescription and as non corrective color contacts. BUT the recommended wear-time on the Freshlook website is 2 weeks. While you can probably wear them for up to 3 sweeks with strict daily cleaning, if you have to change them every 14 days, then they work out more expensive than Air Optix.
The other thing to note is that they are quite wide in diameter at 14.5 so they may not fit everyone. Just remember to visit an eye doctor if you've never worn contact lenses before as you MUST get them fitted first.
NB: If you don't get your lenses FITTED properly, you are more likely to have problems eg. uncomfortable contacts that don't sit correctly on your eye.
As a first time wearer, you may not know whether your non corrective color contacts will suit you. If so, you may just want to try a DAILY disposable lens.
Dailies Colors
are currently the only daily disposable colored contact lenses available on the market and, while expensive at $32.99/box for a box of 30 lenses, Dailies are a good way to try colored contacts without a prescription and you won't have wasted too much money at just $1.09 each if they don't suit you.
Tip: Dailies COLORS have a smaller diameter of just 13.8 than other lenses like Freshlook Colorblends so they may also be a better fit for you.
Related pages: