Cool Color Contacts
How realistic are cool color contacts and how do you find out what colored lenses might look like on your own eyes before splashing out and buying them?
While many big stars walk around in colored lenses every day and you can check papparazzi images of them to see what they look like, even with a different color in each eye, how can you check what they might look like on your own eyes?
I was certainly wondering the same thing as I've been thinking of trying colored contacts again - the last pair I had was 15 years ago, before all the latest super comfortable disposable colored lenses were available.
My biggest question was how realistic are colored contacts or do they just make your eyes look unbelievably bright, whether the color is blue, green or even purple?
Change Eye Color with Cool Color Contacts
I don't know about you, but if you want to change eye color by trying colored contacts, you really need some visual help on which color to choose, after all there are so many shades to choose from.
When I wrote this page a few years back, my usual disposable contact lens brand Acuvue offered several different types of colored contact lenses.
They also had a neat tool where you could upload a photo of yourself and then play around with each different lens color to see which one suits you best. My natural eye color is grey-blue, so here's what I looked like with brown and green opaque cool color contacts: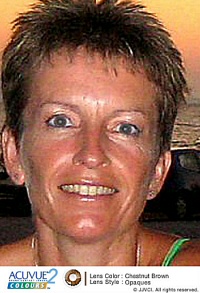 Chestnut Brown Colored Contacts

Jade Green Opaque Contacts

But Acuvue, owned by Johnson and Johnson, no longer make colored contact lenses!
In the last few years, Alcon has become the main manufacturer of the best cool color contacts for 2020 and they offer technologically advanced colored lenses through the Freshlook, Air Optix and Dailies Colors brands.
Best Natural Color contacts
So how do you find the best color contacts for a natural look?
Well it depends on whether you want to have either a beautiful natural look to enhance your natural eye color or whether you want a complete transformation from say blue to dark brown.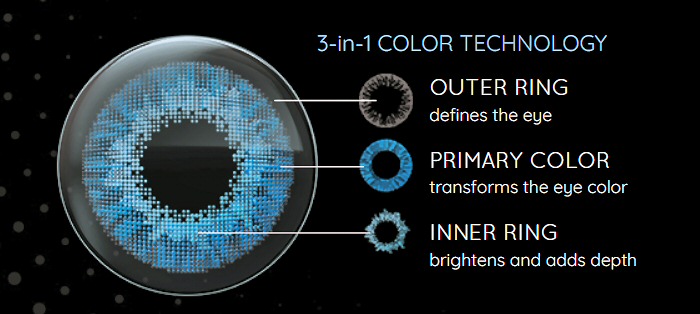 Vibrant or Subtle color

The popular Freshlook brand uses a unique 3 in 1 technology to give your own eyes a natural color boost. It works by using an outer ring of color to define the eye, a primary middle ring to transform your eye color and finally an inner ring of color to add depth and brightness.
Freshlook color contact lenses come in three different options - Colorblends that naturally enhance eye color whether you have light or dark eyes, Colors which give a more dramatic look and are specifically for patients with dark eyes and Dimensions which are designed for patients with very light eyes.
The Freshlook range is sold in boxes of 6 soft lenses and the recommended wear time is two weeks, though you may be able to extend this if you are careful with your daily cleaning routine and if you use eye drops to keep eyes moist should you suffer from dry eyes.
Tip:If, like me, you are used to wearing a daily disposable lens, then you should look at Alcon's other brand Dailies Colors. The beauty about this one, together with their third brand Air Optix, is that you can "try on" the lenses virtually to see what suits you best.
Go to the Air Optix website where you can try on all the various color options across the Air Optix and Dailies Colors range.
I will admit it's a bit of a weird experience as the colors are projected onto your natural eye color via a webcam, but it's better than ordering a color only to find it doesn't suit you!
While the eye color studio option is not offered on the Freshlook website, as many of the shades are the same across all the Alcon brands, you can get a good idea of the look by trying on a color via the link above.
All these cool color contacts come in both prescription (I'm as blind as a bat requiring -3.75 in both eyes!) and non prescription form (if you just want to try colored contacts even though you have perfect vision).
See my color change and color enhance pages for details on where to buy these cool color contacts.
Related pages: