Pink Eye Home Remedies
Find tips for pink eye home remedies to soothe bloodshot itchy eyes.
While severe bacterial forms of conjunctivitis or pink eye need to be treated with antibacterial eye creams or eye drops, sometimes, you just can't get to a chemist or an eye doctor, or your eyes may be so swollen and painful, you don't want to go out or you simply cannot drive.
That's when it's a good idea to have some home treatments for pink eye to hand and here are are a few of my own plus others I've found by doing some research.
You can also share your OWN pink eye home remedies below.
Causes of Pink Eye?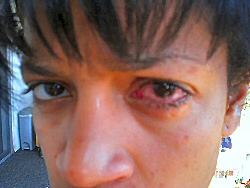 Pink Eye
by Whatsername
Before we look at pink eye home remedies, however, it's worth remembering the causes of pink eye which, for contact lens wearers, can be:
Use of extended wear contact lenses. Bacteria can build up underneath lenses that have been in the eye for long periods of time.

Poor hygiene. Failure to wash hands properly before inserting or removing lenses, or laziness when it comes to changing your contact lens solution, can all cause eye infections, as bacteria gets into the eye and onto the lens.

Trying to save money by NOT changing disposable lenses after the required time period can also result in pink eye. This is as much due to eye irritation initially, but an itchy eye can soon become an infected one if you don't listen to your body and throw away those lenses as soon as your eyes begin to itch.

Allergies can, of course, affect contact lens wearers who may be susceptible to high levels of pollen or a windy day may just blow grit into your eyes, resulting in red swollen eyes.
Pink Eye Home Remedies
Although I've never had a serious case of pink eye, I have experienced very itchy and slightly bloodshot eyes. In Cyprus, the locals use lots of wild flowers and herbs for natural remedies, and I'm a great believer in homeopathic solutions rather than using chemicals or drugs. So I've tried some of their methods.
There are a lot of unbelievable suggestions for a home treatment for pink eye if you do a bit of searching online. These include using lemon juice, baby shampoo (supposedly gentle but all shampoos contain chemicals) and even coffee as a red eye treatment!
Personally I'd rather stick to herbal remedies or simple solutions to merely soothe the stinging sensation which is often a symptom of pink eye. My favorite pink eye home remedies include:
Put damp herbal teabags like chamomile or elderflower (after they have been used to make tea) onto the eyelids and lie down for half an hour.

Place a tablespoon of chamomile flowers in a cup of boiling water, infuse the solution for 10 minutes, remove the petals, then allow the solution to cool. It makes a great cooling eye-wash that really helps to relieve pink eye.

Soak some cotton wool pads in warm milk that has first been boiled to kill any bacteria that may be present. Pop them onto your eyelids and lie down for half an hour to let the compress soothe your eyes.
Do YOU have a home remedy for curing or relieving pink eye? Please share your tips below to help other readers who may not be able to get out to see a doctor to have their eyes checked.
Click to see the tips our wonderful contributors have already given.
Share your home remedies for pink eye!
Do you have a tried and tested home remedy for pink eye? If so, why not share it here, so others can benefit from your knowledge?
What Other Visitors Have Suggested
Click below to see home remedies for pink eye from other visitors to this page...

Salt dissolved in warm water cures pink eye

My husband once had pink eye and a friend advised me to put 2 tablespoons of salt into a small cup of warm water, allow it to dissolve and then put a few …
Related pages: