Non Prescription Colored Contacts
Essential facts about non prescription colored contacts, where to buy them online and which brands are most comfortable.
Are you looking for color contact lenses that don't have any corrective power?
Do you want to completely change the shade of your eyes for a very different look? Or do you just want to make your natural eye color look brighter for added sex appeal?
Read on for key facts about colored contact lenses that don't require a prescription.
Non Corrective Color Contacts
Changing the natural color of your eyes has never been easier with the use of non corrective color contacts. They can be worn by ANYONE, regardless of whether you need to wear contact lenses to actually correct your vision.
Commonly referred to as non prescription color contacts, they are highly popular due to heavy usage by celebrities like Lady Gaga and Paris Hilton. Many people also simply want to have come-to-bed eyes, like those shimmering blue eyes sported by hunky actors like Daniel Craig.
KEY FACT: What many people do not realise, however, is that "non-prescription" does NOT mean you don't need to see an optician before trying colored contacts.
All that non prescription means is that the prescriptive power of the contact lens is ZERO, otherwise known as a PLANO contact lens.
You STILL need to have your eyes tested for contact lens suitability and, more importantly, your optician needs to FIT your lenses.
WHY? Well if you look at the popular non-prescription colored contacts below, you will see that they come in different sizes (denoted by the relevant diameter or width of the lens). So if you don't have them fitted first, you'll have no idea which lens is best for your eye shape!
I can't, for example, use the
Freshlook Colorblends
brand as the diameter is too wide.
In other words, while you don't need an actual prescription to correct your eyesight, you DO need a prescription to tell you the ideal diameter and base curve that is best suited to your eye shape. See this page on how to read a contact lens prescription which will hopefully clarify your base curves from your diameters!
Buy Color Contacts No Prescription
If you're looking to buy color contacts with no prescription, soft disposable lenses are the best choice if you're a first time wearer as they will be the most comfortable option.
The following brands are the most popular soft disposable colored contact lenses currently available: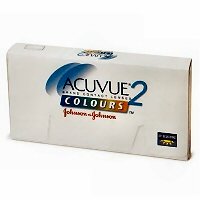 Acuvue 2 Colours - from $29.95/box
Acuvue 2 Colours Enhancers
are a 1 to 2 week disposable soft lens suitable for people with light colored eyes. They come in two base curves of 8.3 and 8.7, have a diameter of 14.0 and are available in shades of blue through to green.
Acuvue 2 Colours - Opaques,

are meant for people with dark or light eyes and come in 7 different shades from blue to brown in the same sizes.
Acuvue Colours offer an ultra thin lens that allows plenty of oxygen through to the eye for maximum comfort - highly recommended for first-time wearers.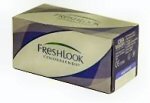 Freshlook Colorblends - $31.95/box
Freshlook Colorblends
come in 12 different shades and are a bi-monthly disposable lens. They are wider in diameter than Acuvue 2 Colours with a diameter of 14.5 and a base curve of 8.6, so they do not suit everyone, but they are highly popular because of the wide range of colors available.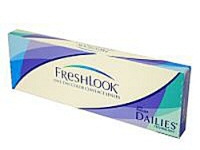 Freshlook ONE-DAY - $14.95/box
Freshlook ONE-DAY
is the only daily disposable colored contact lens currently available on the market and is an economical way to try non prescription colored contacts as they only cost $14.95 for a box of 10 lenses.
The diameter of 13.8 is smaller than the Colorblends range and the base curve is 8.6. Daily disposable contacts are much thinner than 2 week or monthly disposable contact lenses, so if you've never worn non prescription colored contacts before, these may be the most comfortable for you.
NB:
You can save money on your non prescription colored contacts by using one of
these special contact lens coupon codes from AC Lens.
Related pages: