Dark Brown Colored Contact Lenses
The best dark brown colored contact lenses completely change your eye color and look totally natural. Find the best brands here.
Colored contacts are hot fashion items, worn by celebrities and ordinary people alike, thanks to the availability of affordable cosmetic contact lenses like Freshlook ONE-DAY
disposable soft lenses that cost just $14.95 for a box of 10 lenses.
But how do you know whether the color on the chart will look natural on top of your existing eye color? Will it totally change the original color or will it barely make a difference?
And how many brands actually offer brown as a color option?
Cosmetic Colored Contacts
When looking for cosmetic colored contacts, you may wonder why there seem to be a lot of blue-green options. The reason is because some lenses only ENHANCE your eye color by making it brighter and bolder and these color enhancing lenses should only be worn by people with pale blue or green eyes. If you have dark eyes, the colored lenses won't make much difference.
If you want dark brown colored contact lenses, you need to choose an OPAQUE contact lens that completely changes the natural eye color. These opaque lenses can be worn by people with either dark or light eyes and the effect depends on the wearer's original natural eye color.
While I don't want to put dark brown colored contact lenses into my blue eyes, I've been looking at the various colors available at all the major optical brands and at customer reviews to make some suggestions for brown contacts:
---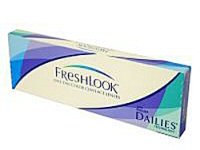 Freshlook ONE-DAY - $14.95/box
Freshlook ONE-DAY
is a daily disposable colored contact lens available in PURE HAZEL for those wanting brown eyes.
Depending on your original eye shade, this color may look dark brown when worn.
It's a good idea to read reviews about products before you buy and these lenses have several customer reviews
saying how comfortable these particular contacts are.
---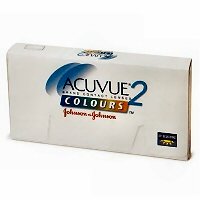 Acuvue 2 Colours - from $29.95/box
Acuvue 2 Colours - Opaques

are 2 week disposable contacts intended for people with dark or light eyes.
The CHESTNUT BROWN is best for achieving a deep brown shade, though if you have pale eyes, you may find that WARM HONEY makes your natural eye color darker.
---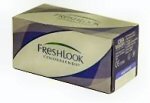 Freshlook Colorblends - $28.95/box
Freshlook Colorblends
are a monthly disposable soft contact lens and come in 12 different shades including BROWN and HAZEL.
When you look at the Freshlook color chart
the BROWN shade actually looks "duller" than the HAZEL color, which is why choosing the right dark brown colored contact lenses involves trying several different colors to find the one that suits your eyes best.
Read customer reviews
on Colorblends contacts before considering a purchase.
---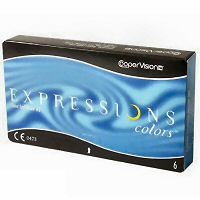 Expressions - $35.95 per box of 6 lenses
Expressions Colors
made by Ciba Vision claim to offer more natural-looking eye tones and are available in BROWN.
Worth a look if other colored lenses you've tried look un-natural.
There are lots of positive reviews about these lenses, especially about their comfort level and their suitablity for dark eyes, with some reviewers saying they think this is the best brand for color contacts.
NB:
Many reviews on all the above lenses talk about some level of discomfort compared to everyday clear lenses. This is because colored contacts are thicker than clear lenses so may not allow your eyes to breathe as much. But it seems that wearers are prepared to put up with mild discomfort and use
eye drops
through the day if their eyes become scratchy.
Order Contact Lenses Online
Finding the right dark brown colored contact lenses can be a case of trial and error, so why not order contact lenses online and make use of first-time order discounts using coupon codes like these from AC Lens,
the online optical retailer I normally use for all my contact lens orders?
Related pages: