Dry Eye Drops
Buy dry eye drops - for contact lens wearers who suffer from dry, itchy or red eyes.
If you wear contact lenses and find them uncomfortable, you most probably suffer from dry eye syndrome, which affects millions of contact lens wearers worldwide. There are many different causes of dry eye but basically your eyes get dry and itchy because they don't have enough lubrication.
Your own natural tears normally provide this lubrication and if, for whatever reason, those tears are insufficient, you need to articificially add some more...
...and that's where eye drops come in.
Eye Drops for Dry Eyes
Here are some of the most popular eye drops for dry eyes. Just click on the links underneath each image to find out more.
My Favorite?
In the summer, when it gets dry, hot and windy, I use
Renu Sensitive Eyes Rewetting Drops.
Why? Because you can put them in while wearing your lenses and because they are compatible with my Renu contact lens solution.
Similasan Dry Eye Relief Eye Drops are immediately soothing and never sting.
The natural formula clears and soothes dry, itchy and red eyes without lubricants or vasoconstrictors. The unique preservative in the drops prevents allergic reactions and discoloration of contact lenses.
Can be applied while wearing lenses. Comes in a 9.9ml bottle.
Highly recommended by reviewers for chronic dry eye.
Preservative free for sensitive eyes with a patented electrolyte balance. Drops are applied using a single vial containing 19.5 ml of liquid. 32 vials in each box.
More expensive than other eye drops but for some people, it's the only thing that works.
Refresh Comfort Drops instantly moisturize and soothe dry eyes caused by soft and rigid gas permeable contact lens wear.
They use a unique, long-lasting lubricant and every application creates a liquid cushion that comforts and protects. Comes in a 12ml bottle.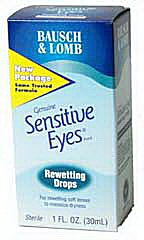 Renu Sensitive Eyes Rewetting Drops - $6.95
Renu sensitive eyes dry eye drops constitute a gentle sterile solution for rewetting your contact lenses during wear.
They are thimerosal free and have a virtually reaction-free formula that soothes eyes and rewets lenses to minimize dryness during wear.
Great for those who use extended wear contact lenses.
Blinking is the eye's own natural way of replenishing the tear film. Use Blink to lubricate and rewet soft and rigid gas permeable (RGP) contact lenses as well as to cushion lenses prior to application.
Made with OcuPure, a gentle disappearing preservative, and essential electrolytes found in tears for relief as natural as blinking!
Best Eye Drops Prices
I normally buy my eye drops direct from the US from AC Lens.com.
I'm constantly checking for the best contct lens prices on the internet and AC Lens are consistently cheaper for my brand Acuvue than any other online optical retailer, including the giant 1800 Contacts. And guess what, they have the best eye drops prices too!
Check out the prices on the entire range of eye drops for dry eyes from AC Lens.
Tip: Before you buy, check that your dry eye drops are compatible with your contact lenses and/or contacts solution, plus whether they can be put in while still wearing your contacts.
Related pages: