Cool Color Contacts
How realistic are cool color contacts and how do you find out what colored lenses might look like on your own eyes before splashing out and buying them?
While many big stars walk around in colored lenses every day and you can check papparazzi images of them to see what they look like, even with a different color in each eye, how can you check what they might look like on your own eyes?
I was certainly wondering the same thing as I've been thinking of trying colored contacts again - the last pair I had was 10 years ago before all the latest comfy disposable ones were available.
My biggest question was how realistic are colored contacts or do they just make your eyes look unbelievably bright, whether the color is blue, green or even purple?
Change Eye Color
I don't know about you, but if you want to change eye color by trying colored contacts, you really need some visual help on which color to choose, after all there are so many shades to choose from.
Well as my usual disposable contact lens brand is Acuvue, I thought I'd give Acuvue's makeover tool a go to "try before you buy" as it were.
You just upload a photo onto the tool and then play around with each different lens color to see which one suits you best. My natural eye color is grey-blue, so here's what I would look like with brown and green opaque cool color contacts: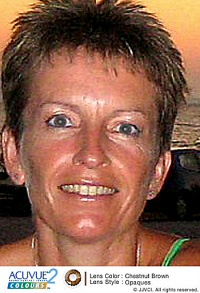 Chestnut Brown Colored Contacts
From Acuvue 2 Colours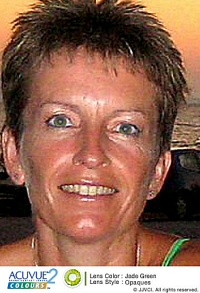 Jade Green Opaque Contacts
From Acuvue 2 Colours
These two lenses completely change your eye color as they are opaque so don't let any light through making you own natural eye tone invisible. I actually quite like the chestnut brown but I do think the brght jade green looks a little false, even if it does match my bright green vest top!
Best Natural Color contacts
Just playing around with the makeover tool made me realise how difficult it can be to find the best natural color contacts for your eyes. I know I've seen many people with what look like startling unbelievably blue eyes, only to think afterwards, they must have been wearing blue colored lenses.
Tip: If like me you have pale blue eyes, then try a color enhancing lens which only magnifies your natural eye tone rather than masking the shade completely.
Here's what I would look like with two different shades of blue colored contact lenses: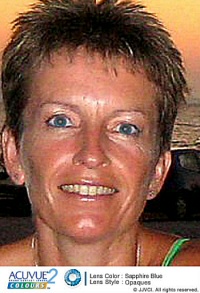 Sapphire Blue Colored Contacts
From Acuvue 2 Colours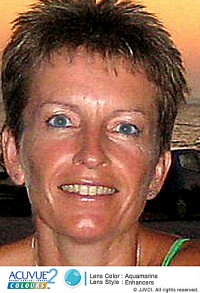 Aquamarine Color Enhance Lenses
From Acuvue Colour Enhancers
I think the aquamarine shade, which only enhances my eye color, is better than the brighter sapphire blue tone but both are fairly cool color contacts and I'd be happy to wear these over my own natural eye tone.
Thankfully they come in both prescription (as I'm as blind as a bat requiring -3.75 in both eyes!) and non prescription form (if you just want to try colored contacts even though you have perfect vision).
See my color change and color enhance pages for details on where to buy these cool color contacts.
I reckon these Acuvue lenses do look pretty realistic, so I'm planning to order some when I place my next contact lens order online. I'll share some pictures once I have them :)
Related pages: