Contact Lens Travel Case
Buy a contact lens travel case for easy transportation of daily, weekly or monthly disposable contact lenses.
If you wear daily disposable contact lenses like ultra comfortable Acuvue Moist,
or the bi-monthly Acuvue Oasys, and you travel frequently on business, you may need something to carry your lenses in. While a pocket in a toilet bag is one option, you really don't want to put them next to travel sized bottles of shampoo or other liquids which could damage the lenses.
The solution? A travel case for your lenses of course!
Funky Contact Lens Cases
I just love these stylish contact lens cases that make you smile, plus they don't cost a fortune.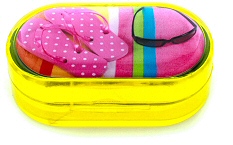 Sunshine Diva contact lens case - $7.29
Love bright colors and a designer touch? Then this funky Contact Lens Case is the perfect way to carry your lenses when travelling.
If you wear dailies, just pop a couple in for putting on either during your journey or as a spare set in case you get tired.
If you wear monthly disposables, just use the case to carry them with you as I always pop some reading glasses on in a plane to stop my eyes drying out too much.
---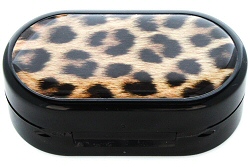 Leopard Print Lens Travel Case - $7.29
Here's an alternative to those fun brights with this Leopard Print Lens Travel Case. Bring out the animal in you with this stylish, yet not-too-bright contact lens case.
Another great value travel case, same style as above just a different pattern, which holds either a sturdy screw-top lens case for monthly disposables or there is space for a few daily disposable lenses plus a mirror.
Contact Lens Travel Case Accessories
Practical and useful contact lens accessories like lens travel cases make perfect gifts.
Get them personalized to make the gift even more special or buy a contacts travel case in the recipient's favorite color.
Or help to make life easier by giving gifts that remind a contact lens wearer when to change their lenses
- a stylish timer.
Or a swanky contact lens organiser, the travel case for contact lens wearers who need to clean and disinfect lenses at night, one that holds mini size bottles of solution, lens cases, spare lenses and a mirror - helpful for people who can't put contacts in without looking at themselves!
If you can't find a travel case that you like on this page, then there are many other design options to choose from. Just go to any of the above links and explore the other items under the contact lens travel case tab located on the left-hand navigation bars.
Related pages: