Colored Bifocal Contact Lenses
Where to buy colored bifocal contact lenses at the best price.
If you love wearing colored or tinted contact lenses but now need a bifocal prescription as you grow older, you've probably been searching in vain for your favourite brand of lenses, only to find that they're not available.
While you can buy bifocal toric contact lenses (for people with astigmatism), once your prescription starts getting complicated - and bifocal or multifocal presriptions can be very complex - the cost of producing mass market colored lenses for unique prescriptions just doesn't make sense for the big manufacturers like Acuvue or Freshlook.
But you will be pleased to hear that you CAN buy colored bifocal contact lenses. Let me show you how.
Colored Bifocal Contacts
Companies that make custom lenses can offer customers with complex prescriptions colored bifocal contacts. However, a custom-made contact lens comes at a price.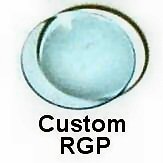 Accuson custom RGP colored lens $41.99 per lens
Independent RGP Labs are one of the best value options I've found so far in my years of research for customers looking for a bifocal color tinted lens. The Accucon RGP colored lens starts at $41.99 per lens for a normal sphere contact lens, rising to $92 per lens for non-sphere lens types (where the eyeball shape is not "normal" sphere).
These custom lenses are oxygen permeable rigid lenses, so not great if you are used to wearing super comfortable soft contact lenses. But if you want a colored lens AND a bifocal prescription, then the oxygen (gas) permeable rigid lens option is the only cost effective choice at the moment.
Bifocal Colored Contact Lens
When choosing a bifocal colored contact lens, it's important not to get carried away making the color choice of lens your only priority.
Consider, for example the type of bifocal lens first ie. whether you prefer an aspheric contact lens where the near power is in the center of the lens and the distance power is towards the outside of the lens OR whether you prefer an alternating vision lens where, like bifocal glasses, the long-distance power is at the top of the lens and the short-distance power is at the bottom.
Chances are that you may be getting used to one or the other of the above types of bifocal contact lens and, having decided that bifocal contacts are better than resorting to glasses, you are now searching for a color option in your new contact lens prescription. You may also be considering the squemishly horrible thought of LASIK eye surgery. Laser treatment corrects for distance and can also be used for patients with presbyopia by correcting one eye for near vision only, although many people find it difficult to adapt to different powers in each eye and can also lose depth perception.
TIP: Get the bifocal fit and vision right through several visits to your optician first before considering buying custom-made colored bifocal contact lenses.
I'll keep you up to date with developments on colored lenses for bifocal prescriptions. In the meantime, take a look at the Accuson custom lens option above.
Related pages: