Halloween Eye Contacts
Spook all your friends and enemies with scary Halloween eye contacts.
Halloween marks the start of the Holiday season all over the world and holding or going to a Halloween party means lots of dressing up.
20% Off Theatrical Lenses. Use VERYSCARY at checkout.
If you want to create a truly scary look this year, then why not try a pair of weird and wacky crazy Halloween contact lenses?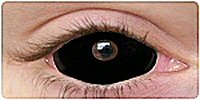 Black Sclera lenses – perfect for Halloween
Choose from a multitude of different styles including spiral lenses for a hypnotic zombie look to dark red lenses to denote blood-filled eyes, just like Dracula!
Or maybe go for highly popular white-out or all-black lenses that are totally creepy.
The colored lenses in the picture to the left cover the entire visible part of the eye and are known as Sclera contact lenses, most popular in the theatrical and movie world. They do cost a lot more than simpler scary Halloween eye contacts which only cover the iris (colored part of the eye), but people will literally stop and stare.
NB: Sclera lenses are more difficult to insert as they have to be pushed up under the eyelid due to their wide diameter.
Zombie Contact Lenses
Zombie white-out contact lenses
are perfect for the highly popular zombie look and need little more in terms of a fancy dress outfit than a touch of red face-paint and some scruffy tattered clothes; the more rips in them the better!
As zombies are pretty much brain-dead, white-out or black-out lenses create that oblivious-of anything vacant look as well as being scary. If you wear soft contact lenses for perfect vision then there are lots of crazy lenses in prescription form made by FDA-approved reputable contact lens companies like Marietta Vision, supplied by AC Lens,
my tried and trusted online contact lens source.
There are also, worringly, many companies offering cheap Halloween contact lenses online from as little as $20 per pair. Very few, if any, have been approved by the FDA so be wary of what you may think is a bargain – the lenses are likely to be thicker and made of cheap non-breathable plastic so dry eye contact lens sufferers beware.
Halloween Contact Lenses
The reason there are many cheap Halloween contact lenses on the market is that most of them are sold as
plano
lenses with zero power that don't alter your vision ie. for people who don't normally wear contacts. There is basically a huge market for so-called fashion cosmetic contact lenses, popularized by celebrities like Paris Hilton who likes to change her eye color as often as her clothing.
While it is perfectly safe for someone who does not need lenses for vision correction to wear Halloween eye contacts, most people don't realize that you still need to visit an optician to have your eyes tested first.
Tip: Some people can't wear ordinary contacts due to the shape of their eyes so if you don't visit an optician first, you'll never know and could end up damaging the one thing you need to see!
So when shopping online, always beware of sites that don't ask for any form of prescription (to prove you have seen an eye doctor even if you DO have perfect vision) - chances are they are selling cheap lenses made in China as opposed to contacts approved by the FDA that will not harm the eyes; approved lenses will also be more comfortable as they are thinner and easier to insert and remove.
Expect to pay $25 to $40
PER
lens for scary colored contacts from a reputable supplier. Sclera contacts cost far more as they are custom made to order. Aswell as
AC Lens,
I can also recommend FDA-approved
Vision Direct
as a quality Halloween contacts supplier. They also offer 25% discount for first time buyers - just enter
NEW25VISION
at checkout.
Still thinking of wearing Halloween eye contacts? Read my related pages for further advice and best places to buy colored contacts before making a final decision.
Related pages: