Free Samples of Contact Lenses
How to get free samples of contact lenses so you can try before you buy online
The easiest way to get free samples of well-known contact lens brands is to visit your eye doctor. They will have free trial lenses from the brands they recommend and can let you try before you commit to buying.
For first-time wearers, it's a good idea to try a few different brands to see which suits you best although your optician will have recommended a certain brand such as Freshlook or Acuvue to begin with based on the results of your eye examination.
This will be based on both your eye shape to get the best fitting lens and the type of work that you do. For example, someone working in an air-conditioned office will need a lens that allows the maximum amount of oxygen through to prevent dry eyes and some brands are better than others.
Free Contact Lens Trials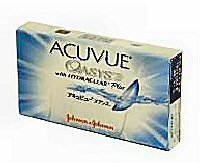 Acuvue Oasys with Hydraclear plus technology
If, like me, you've been wearing contact lenses for many years and just want to try a different product such as the latest technology from a particular brand eg. Acuvue Oasys with Hydraclear plus technology
for even MORE comfort, then you can obtain free contact lens trials by applying for a free trial certificate either direct from the brand website or through an online optical retailer.
The brands don't just send out free trial pairs of lenses as, for complete eye safety, you have to visit a participating eye care professional to have your eyes checked, then use the certificate to get your free trial pair.
An advantage of using an online retailer for the trial certificate is that you can then bulk purchase contact lenses after the trial and get a rebate on your order as described below.
Acuvue Contact Lenses Rebate
Once you have found your perfect comfortable contacts having tried various free samples of contact lenses, another way to save money is to make a bulk purchase (such as 8 boxes for a 6-8 month supply) and then apply for a rebate.
Johnson and Johnson, for example, offer an Acuvue contact lenses rebate on their most recent products like 1 week disposable Oasys lenses and the 1 day TruEye lenses.
You can save, for example, $75 on 8 boxes of Acuvue Oasys lenses and $100 on 8 boxes (90-day) of Acuvue TruEye lenses.
Here's how to get a rebate of up to $100:
Get an eye exam and then purchase the required number of boxes from an online retailer like AC Lens.
Complete the online rebate form on the Acuvue website.
Attach 2 box tops and receipts.
Mail to the address on the Acuvue website to obtain your rebate.
Related pages: