Zombie Contact Lenses
Where to find affordable safe zombie contact lenses to look exactly like one of the un-dead. Buy white contacts for the perfect zombie look.
Dressing like a zombie may sound weird, but it's fast becoming a highly popular cult activity all across the world.
Even the stars are joining in, with Brad Pitt the latest super-hero to have a go at the zombies in his latest film World War Z. Residents of Glasgow in Scotland may have been bemused by all the media attention as the Hollywood star spent two weeks filming the World War Z movie there in August 2011. If they didn't know about the zombie craze then, they probably do now!
Social networking sites like Facebook and Twitter soon spread the word if there is a zombie gathering taking place near you. The clothing is easy - just tear up some old clothes and splatter them with red paint or ketchup, but what about LOOKING like a zombie?
Tip: That's where zombie contact lenses come in...and white contacts create the perfect look.
White Contacts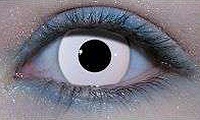 Zombie White Contacts - Only $29.99
Check out these fabulous white contacts
available in both prescription and non prescription (plano lenses with zero power) form.
They create the perfect "spaced-out" look, typical of the un-dead as authentic zombies are commonly known. You don't need to be a regular contact lens wearer to use them either, as they are available with zero prescriptive power.
If you do need lenses to see properly, these contacts are also available with a power up to -6.00. They have a base curve of 8.6 and a diameter of 14.5 and are made by a quality optical manufacturer with full FDA approval, so you can buy with confidence as these lenses will NOT hurt your eyes.
Tip: You can save 25% as a first time buyer on these lenses using the link above.
Zombie Contacts
The soft zombie contacts shown above are intended to be worn at zombie gatherings or special events like Halloween. They should ideally not be worn for more than 8 hours as, being colored, they are slightly thicker than normal soft lenses, so may feel uncomfortable after 8 hours.
Remember to take some eye wetting drops with you in case of any discomfort or if your eyes dry out, for example, under bright lights at a party.
Tip: If you do try zombie contact lenses, remember not to share them with your zombie friends - it's a sure fire way to get an eye infection!
Related pages: