Twilight Contacts
Buy Twilight contacts to look like your favourite Cullen or Volturi character.
The Twilight saga is one of the most popular set of vampire movies around right now and fans just want to look like one of their favourite characters.
Choose between the "good" vampires that don't feed on humans and have orange-yellow golden eyes or the evil Volturi with blood red eyes that love to suck human flesh dry.
Contact lens manufacturers have been busy adding appropriate twilight contacts to their ranges and here's where to find them.
Vampire Contact Lenses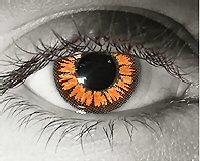 Twilight Contact lenses from the Eclipse movie
$29.99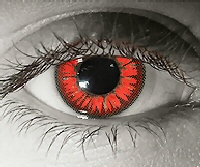 New Moon Volturi Contacts
$29.99
The Twilight lenses featured in the above images are classed as fashion contact lenses as they don't correct eye vision ie. they are plano lenses. They can be worn by anyone with perfect eyesight but if you are already a contact lens wearer and need vampire contact lenses to match your eye prescription, take a look at the extensive range of scary contact lenses from Vision Direct.
Scary Contact Lenses for Halloween
Options for people needing scary contact lenses to match their normal prescription include: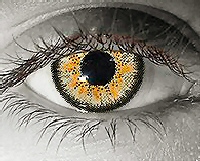 Circle Contacts
$29.99
This lens is available in numerous colorways including hazel which has a golden tone just like the Cullen family eyes in the Twilight movies.
The lens is available in prescriptive powers from -8.0 to +4.0 and with a diameter of 14.0 and a base curve of 8.6.

Impressions Contacts
ONLY $14.99!
This lens is also available in numerous colorways including brown which looks similar to the lens above with golden tones.
This lens however is only suitable for short-sighted people with powers up to -6.0. Lens diameter is 14.0 and the base curve is 8.6. But is great value for money at only8 $14.99 PER lens!
Tip:
Save 25% on your Halloween contact lens order from
Vision Direct
using coupon code
NEW25VISION
at the checkout!
Related pages: