Scary Contact Lenses
Buy FDA approved scary contact lenses for Halloween.
Just for fun last year, I tried some scary contact lenses for a special Halloween party when the theme was ghouls and ghosts.
Back then I had no idea just how many different designs were available nor was I aware of the massive difference in price between some Halloween contacts and others.
I have to admit I played it safe and just went for some black wolf eye contacts that weren't too outrageous but they did make people stop and stare.
I've put these and a few other favorites below so you can take a look.
Vampire Halloween Contacts
Take your pick from my favorites and click on the links for more information: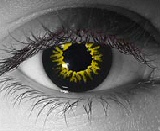 Black Werewolf Contacts
$29.99 at Vision Direct
Here are my black wolf eye lenses that add a subtle scariness to any Halloween party outfit.
Only available for short-sighted people with prescriptions from -0.25 to -6.0 and those with perfect vision ie. plano lenses.
---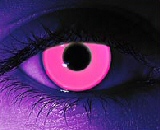 Pink Glow in the Dark Contacts - $29.99
Night-club lovers will adore these pink glow in the dark contact lenses that are also available in a variety of other colors including blue, yellow, neon green and aqua.
They have a base curve of 8.7 and a diameter of 14.0 and come in both plano and prescription form (short-sighted people only).
---
Black Sclera Contact Lens $129.99
I'm way too squemish to try these wider diameter lenses as you have to lift your eyelid up to manoeuvre the lens into place. They are also really expensive but if you want that authentic Twilight look...
Available in both plano and prescription in a wide range from -0.25 to -7.0 for the short-sighted and also up to +4.0 for long-sighted people.
---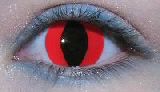 Red Fun Cat contact lens - $59.99
These red cat eye contacts double as both scary contact lenses and also as cute playful little devil contacts.
There are more expensive options where the entire eye can be made red using a wider diameter sclera lens but these are good value lenses available in both plano and prescription options for those who need to correct their vision while wearing Halloween contacts.
---
Save money on Cosmetic Colored Contacts
Save $$$ on your Halloween contacts and get free delivery with the Vision Direct coupon below:
Get a HUGE 25% Off Your Halloween Contacts & FREE Shipping (first time customers only)! Enter coupon code NEW25VISION at checkout. Limited time offer.
---
Related pages: