Prescription Halloween Contact Lenses
Find affordable prescription Halloween contact lenses, FDA-approved quality contacts with corrective powers.
Most ultra cheap wild scary lenses for Halloween are only made with non corrective powers ie. PLANO form. They are aimed at teenagers who want throw-away fashion, young people who are not aware of the potential risks of wearing cheap pieces of plastic that could harm their eyes.
Cheap Crazy Contact Lenses
But you will be pleased to know that there are also many affordable prescription Halloween contact lenses that are FDA-approved, so you can buy with confidence, knowing that they are from a reputable supplier.
I've pulled out some of my favorites below. They are soft monthly disposable lenses that can be worn up to 30 times with proper care. You can click on the links to find out more, but do also read to the end of the page for my tips on lens sizes, cleaning routines and maximum wear time.
The following lenses are all FDA-approved, so provided you follow the correct wear and cleaning procedures, they will not harm your eyes. If you order through Vision Direct on one of the links below, you can get 25% off using coupon code NEW25VISION!
Black Werewolf Contacts
$29.99 at Vision Direct
Available in powers from -0.25 to -6.00, these yellow Werewolf lenses
are a popular choice for Halloween parties and have a base curve of 8.6 and a diameter of 14.5.
As with all crazy prescription Halloween contact lenses, you can see perfectly through the lenses, but your onlookers won't be able to see your natural eye color.
---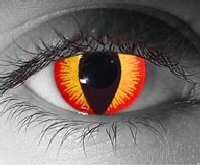 Banshee Contact lenses

$29.99 at Vision Direct
Banshee contact lenses
are available in plano (zero power) and prescription form, from -0.25 to -6.00, these crazy red and yellow lenses are sure to impress and have a base curve of 8.6 and a diamter of 14.5.
---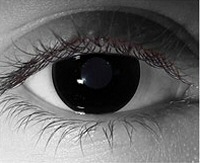 Black Out contact lenses - $29.99 at Vision Direct
Black Out contact lenses
are the perfect choice for an ultra scary look. While many all-black contacts cover the entire eye and are expensive theatrical-grade lenses, these smaller contacts still give the vampire look without an expensive price tag as they are only $29.99 per lens.
They have a base curve of 8.6, diameter of 14.5 and, like the other $29.99 lenses, come in powers from -0.25 to -6.00.
---
Pyro Contact Lenses $104.99 at Vision Direct
I've included these fabulous Pyro Contact Lenses
as they're so cool with mesmerising flames coming from the center of the eye - I just love them! They are custom made, so do allow 4-6 weeks for delivery; it's worth the wait to see the look on your friends' faces! .
Available in prescription form from +4.00 to -6.00, they come in 2 different base curves (8.4 and 8.6) and have a diameter of 15.0.
NB: The $29.99 lenses are only available in MINUS prescription form ie. for short-sighted people, whereas these more expensive contacts, come in PLUS prescriptions too.
---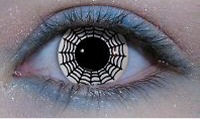 Spider Web contact lens - $29.99 at Vision Direct
With the popularity of the Spiderman films, these Spider Web contacts
could be the lenses for you! With a mesmerising pattern, they have a base curve of 8.6, diameter of 14.5 and come in zero prescriptive power only.
Tip: Don't forget you can save money on ALL these incredible lenses by using coupon code NEW25VISION at the Vision Direct checkout. That brings the cheapest lenses down to under $45 per pair.
---
Can't find a style you like? See the entire range of theatrical prescription Halloween contact lenses here.
Halloween Contacts
If you're searching for prescription Halloween contact lenses, then you will almost certainly already be a regular contact lens wearer; you are therefore probably well aware of the correct cleaning routine to follow after taking your new crazy Halloween contacts out. It's worth remembering a few things though:
Most Halloween contacts are only worn a few times during the Holiday season. But the soft lenses highlighted above are designed to be worn for up to 30 days. So it's a good idea to periodically remove the lenses from their storage solution, give them a quick clean, then replace them in FRESH solution to ensure they last until next year.

DON'T let the lens solution dry out through neglect...you know what I mean if you have forgotten about some lenses in a case, then opened it up to discover a crinkly plastic mess at the bottom!

Crazy colored contacts are thicker than ordinary soft lenses as the color adds another, albeit thin, layer - so the maximum wear time is around 8 hours.

Before you order, make sure you check the SIZE of each lens, especially the diameter. Unless you are ordering a sclera lens which covers the whole of the eye, most prescription Halloween contact lenses have a diameter of at least 14.5m, which, although they may fit in your eye, may prove to be uncomfortable.
I certainly had this problem when I tried a different brand of normal soft contact lenses; as they were larger in diameter, I found them really uncomfortable as I could "feel" the outer edge of the lens against my eye-ball.
Related pages: