Pitch Black Mirrored Contact Lenses
Why pitch black mirrored contact lenses are one of the most desirable accessories for an ultra scary vampire look. Buy high quality black contacts here.
How can a contact lens be black and yet offer a mirror effect at the same time?
Well the simple answer is they can't! But a black contact lens can act like a mirror in that the outside of the lens is pitch black, so anyone looking at the wearer can't see their real eye color, yet the wearer can see perfectly through them.
They are especially scary when they come in wide diameter or scleral form, because the contact lens covers the entire eye, and as the pupil is black too, it creates a unique scary look as you can see below.
Scary Contact Lenses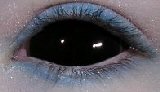 Pitch Black Contact Lens $129.99
SAVE 25% - see below
Buy FDA approved pitch black mirrored contact lenses from
Vision Direct.
Save 25% using
coupon code NEW25VISION
at the checkout.
These pitch black lenses are not cheap, but that's because they are custom made theatrical quality contacts manufactured by Marietta Vision, who make lenses for actors to use in vampire films and zombie movies.
Sclera lenses, as they are called, are wide diameter lenses that can be tricky to insert as you have to lift your eyelid up to manoeuvre the lens into place. So it's a good idea to do a wearer-trial before your Halloween party, otherwise you may find the wide diameter lenses a bit uncomfortable, if only as they feel more weird covering the whole of your eye, rather than just the iris.
The lenses above are high quality soft sclera lenses and are available in both plano (zero prescriptive power) and prescription form in a wide range from -0.25 to -7.0 for the short-sighted and also up to +4.0 for long-sighted people.
Crazy Contacts
If the thought of popping a pair of sclera pitch black mirrored contact lenses in your eyes is too much, or you can't justify the high cost, you can also create a scary vampire look with crazy contacts that only cover your iris. They are far cheaper than wide diameter lenses as they don't need to be custom made to order.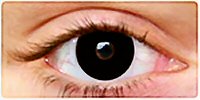 Black Out Contact Lenses from Vision Direct
These great value black colored lenses are available in both zero power and also in prescription form from -0.25 to -6.50. The black portion of the lens covers the iris for an ultra spooky vampire effect.
They cost just $29.99 per lens but you can save 25% when you use the Vision Direct link to the left.
Get 25% Off Your Entire Order & FREE Shipping (first time customers only)! Enter coupon code NEW25VISION at checkout.
Related pages: