Gothic Contact Lenses
All about gothic contact lenses that make your eyes look jet black, one of the most popular ways to accessorize a Halloween outfit.
The goth look is one of the most popular when it comes to dressing up for Halloween.
Costumes are easy to make when all you need is something dark and grungy, hair can be tousled and gel applied to make it stand up on end and there are some great accessories available to complete the look.
And gothic contact lenses offer one of the best ways to accessorize an outfit.
Halloween Contacts without Prescription
It is now possible to buy a pair of colored Halloween contacts without the need for any prescription as there are many reputable sites selling FDA and EU approved cosmetic contacts online.
But please note that you should STILL visit an optometrist to have your eyes checked to make sure they are suitable for contact lens wear EVEN IF YOU HAVE PERFECT VISION!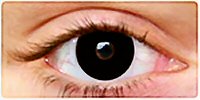 Black Out Contact Lenses from Vision Direct
These amazing value black colored lenses are available in both zero power for those not needing vision correction and also in prescription form from -0.25 to -6.50. The black portion of the lens covers the iris for a really spooky gothic effect.
Just $29.99 per lens (25% off for first time buyers when you use the Vision Direct link to the left.)
Get 25% Off Your Entire Order & FREE Shipping (first time customers only)! Enter coupon code NEW25VISION at checkout.
Cheap Scary Contact Lenses
You may think that almost $60 for a pair of gothic lenses like the black ones above is expensive. And yes they are not cheap. But many QUALITY cosmetic lenses are far more expensive, especially those that are hand-made to order with weird and wacky designs.
There are of course some incredibly cheap scary contact lenses online from a variety of different retailers, some as little as $19.99 per PAIR! But you need to be cautious as most cheap cosmetic lenses are only available in plano form, in other words with zero prescription.
The target audience is very much young people who just want a quick throw-away fashion item at the best possible price. And this can spell danger for unsuspecting young goths as cheap lenses are usually of poor quality and are made of thicker plastic atht doesn't let your eyes breathe properly. In addition, young people often share lenses and/or don't care for their new "accessories" properly as website selling cheap lenses often don't give any cleaning guidelines; this can lead to potentially serious eye infections.
Buy Safe Crazy Colored Contact Lenses
In order to buy safely online, first visit an optometrist to have your eyes checked, then look at at least 5 different websites selling crazy colored contact lenses. The reputable sites will ask for your prescription and possibly the name of your eye doctor...
...and your prescription may just be 0 (zero) if you have perfect vision...
...plus they will state that they have been approved by the FDA which sets strict guidelines as contact lenses "present significant risks of blindness and other eye injury if they are distributed without a prescription or without proper fitting by a qualified eye care professional."
Tip - the "fitting" part is important as lenses come in varying diameters to shape different eyes. You need to know which size to order!
Whatever you do, don't just order the cheapest pair of lenses you spot online without doing some research on gothic contact lenses first, if nothing else to determine whether you want a black eye look, a vampire red stare or a psychotic dazed look. And leave plenty of time before Halloween to have your lenses delivered.
I've researched many many sites offering Halloween contact lenses and my best recommendation is Vision Direct, a quality optical retailer fully approved by the FDA. They have an extensive range of theatrical lenses and first time buyers can get 25% off their first order using coupon code NEW25VISION at the online checkout.
Related pages: