Crazy Contacts
Tips for finding crazy contacts that are comfortable and above all safe to wear.
Ten years ago, you could only find unusual colored contact lenses by spending a lot of money and buying theatrical grade custom lenses. These were high quality and perfectly safe to wear, but at a price.
But more recently, there has been an explosion in the vast number of crazy styles of contacts on the market and, due to the popularity of vampire movies and various supernatural cult TV series, the market has been flooded with lots of cheap imitations, mainly sold in zero prescription form as they are cheap to manufacture.
I sound a bit like a broken record, but it always amazes me how people who have never worn contact lenses are willing to put cheap bits of plastic in their eye without a second thought. And then they swop lenses with their friends, to see how they look. A sure-fire way to get an eye infection!
If you're thinking of buying some crazy contacts, do read my advice on wearing colored contacts without a prescription first.
I've spent days trawling the net to find the best value colored contacts on the market - best value as they are made by an FDA approved manufacturer which means that these lenses will not harm your eyes if you follow the correct cleaning and disinfecting procedures, as with all contact lenses.
Wacky Contact Lenses
I've found some great wacky contact lenses for 2012 so take a look at my latest favorites below. You don't need to wait until October 31st to wear these either as they can be worn to a fancy dress party or just to attract attention at ANY time of the year!
Baby eyes contacts - only $15.99 at Vision Direct
These lenses called Baby eyes contacts
are just amazing value for money as they cost just $15.99 per lens AND they come with prescriptive powers as well as zero prescription (for those who don't need to correct their vision).
I've found many many crazy contacts priced around the $25-30 mark, but none below $20 that are also prescription lenses. They also come in 3 colors so you can choose between grey, blue or brown.
They have a base curve of 8.6, diameter of 14.5 and come in powers from -0.25 to -6.00.
---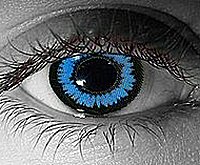 Gaga lens - $29.99 from Vision Direct
Now this one is a real find if you are looking for PRESCRIPTION crazy contact lenses. The Gaga lens
comes in bright blue and grey and is available in both PLUS and MINUS prescriptiove powers up to +8.00 and -8.00. That means you can wear them whether you have 20:20 vision (just choose the 0.0 ie. zero prescription), are as blind as a bat without your contacts, like me, or whether you are long-sighted.
They have a base curve of 8.6 and a diameter of just 14.0 so they are smaller than many other crazy contacts, so may be just right for you if you've tried the wider 14.5 and upwards diameter lenses and found them uncomfortable.
As usual with all my lens recommendations, they are perfectly safe as they're made by a reputable manufacturer with full FDA approval.
---
Halo contact lenses - $104.99 from Vision Direct
I always hesitate before showing the more expensive wacky contact lenses as they cost over $100 per lens, but you do get a lot of lens for your money and they will stand out from the crowd as they are always custom made.
These
Halo contact lenses
are just amazing with the huge black iris surrounded by a golden globe. They have a base curve of either 8.4 or 8.6 and a diameter of 15.0 and take 4-6 weeks to be custom made.
Tip:
While expensive, if you use coupon code
NEW25VISION
when ordering from
Vision Direct,
you get a 25% discount making these beautiful high quality contacts cost just $157.48!
---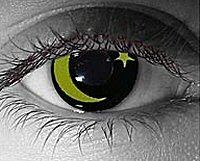 Moon and Star lenses - $29.99 from Vision Direct
Totally crazy but lots of fun, I love these Moon and Star lenses
even though I can't wear them as they only come in plano form ie. zero prescription.
If you have perfect vision, you can wear them or if you are only slightly short-sighted eg. with a prescription of -0.25, you can probably get away with using them for one night, though you may not recognise the best looking people at the party!
The lenses have a base curve of 8.6 and a diameter of 14.5.
Tip: Make sure you get your eyes checked by an optician before buying as you still need a prescription (even if it's zero) to buy these lenses.
Crazy Colored Contact Lenses
If you want to see a complete range of crazy colored contact lenses, take a look at the theatrical section at
Vision Direct,
where you get 25% discount on your first purchase using code NEW25VISION.
I've done some of the hard work for you by picking out suitable contacts (above) if you need wacky contacts in prescription form, as most lenses under $29.99 are plano lenses only. But take a look at the whole range to see what else might take your fancy but be warned, the craziest ones are likely to be custom made only so cost more.
Happy partying!
Related pages: