Crazy Colored Contact Lenses
Where to buy totally crazy colored contact lenses
Looking for weird, wacky fun contacts to wear to a Halloween party or just to brighten up a fancy dress party?
Perhaps you are an actor in a play all about the supernatural or maybe you just want to scare your friends whether it's October 31st or not.
The crazy contacts below are some of the wackiest on the market. They have all been approved by the FDA so you can be sure they have been passed safe to wear and I've picked out a variety of styles at different price points to suit all budgets.
First time buyers can also get a huge 25% discount using coupon code NEW25VISION at the Vision Direct, checkout so click on the links below for more information.
Halloween Contacts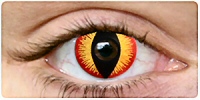 Banshee Contact lenses - $29.99
One of the most popular styles for Halloween, be a devil with these eye-catching contacts. priced at just $29.99 per lens they are excellent value for money.
Available in prescription and plano (zero power) form please note that if you are a contact lens wearer with astigmatism, this lens may rotate on the eye.
---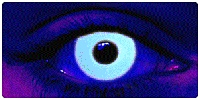 Rave neon blue - glows under black light - $29.99
These amazing lenses actually glow in the dark and are great for parties in nightclubs. Available in green, blue, yellow or pink they cost $29.99 per lens and can be purchased in plano or prescription form with a Diameter of 14.0 and a BC of 8.0.
---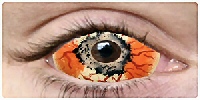 T Virus - Custom made Diameter 22

from Vision Direct
Special FX sclera contacts that will truly MAKE your zombie outfit and people will think you've just come off a movie set!
These lenses cost $209.99 EACH but that's because they are hand-made to order and the sclera lens covers the whole eye. Please note that larger lenses like these can take time to get used to so if planning to buy, order in plenty of time for your Halloween party.
---
Dark Side II custom contact lenses

from Vision Direct
Need a cheaper zombie or Star Wars look? These hand-painted red and yellow lenses are far cheaper and more comfortable than sclera lenses as they are normal sized soft lenses. At $104.99 per lens they are available in plano and prescription form.
Pitch Black Mirrored Contact Lenses
Black Out Contact Lenses

from Vision Direct only $29.99
Theatrical quality mirrored lenses as seen in the popular series Twilight are actually very expensive. WHY? Because they are sclera lenses that cover the whole eye and have to be custom made to order.
But you can get the Twilight look by choosing black-out lenses like these. At just $29.99 per lens they are far cheaper as they are normal size soft lenses that just cover the iris.
These crazy colored contact lenses are available in both prescription and non-prescription form (for those who do not need vision correction) with a BC of 8.0 and Diameter of 14.5.
Tip:
Remember to use coupon code
NEW25VISION
when ordering from
Vision Direct,
to get your 25% discount!
Do you have perfect vision? Remember you still need to visit an optician to have your lenses FITTED or a) they may not fit and b) your eyes may not be suitable for contacts.
Related pages: