Movie Contact Lenses
Look like your favorite character with movie contact lenses. Find the hottest styles here.
Cosmetic colored contact lenses are growing in popularity and while many people simply enhance their natural eye color or even change it completely with "ordinary" eye shades like green, brown or blue, young adults are going a stage further and are using crazy colored contacts as a key fancy dress fashion accessory.
Movie contact lenses offer a way to look exactly like your favorite star. Here are some of the hottest styles right now, inspired by blockbuster films both new and old.
Theatrical Contact Lenses
Theatrical contact lenses vary in price according to the complexity of manufacture and whether they correct vision or not. Plano lenses, for example, are much cheaper as they do not correct vision and come in a standard size, usually 14.0 diameter and 8.6 base curve.
Tip: If those numbers sound like double dutch to you, then you must visit an optician before even thinking about buying movie contact lenses as your eyes have to be measured for the correct FIT even if you have perfect vision.
Special FX Contact Lenses
Here are some of the hottest special FX movie contact lenses for Halloween and fancy dress parties in 2011:
Avatar Na'vi contact lenses
Just $29.99
These fantastic green-yellow contacts are the perfect accessory for your Avatar costume.
Available from trusted partner Vision Direct, these high quality FDA-approved lenses colored lenses have a diameter of 14.5 and a base curve of 8.6. They have ZERO vision power and so can be worn by anyone with perfect vision but not if you wear lenses to see properly.
NEW - Get 25% Off Your Entire Halloween Contacts Order & FREE Shipping (first time customers only)! Enter coupon code NEW25VISION at checkout. Limited time offer.
Twilight Contact lenses from the Eclipse movie
$29.99
These Eclipse contact lenses offer a way to literally look like one of the good Cullen vampires from the Twilight movies.
Golden in color, they are also fashion lenses available in plano form only and cost $29.99. Just click on the link opposite for more information.
New Moon Volturi Contacts
$29.99
Want to be an "evil" vampire? Then grab a pair of blood red contact lenses to look like one of the Twilight Volturi characters. This particular style is a plano lens again to be worn by those with good vision.
If you need prescription colored contact lenses, however, check out the lenses below.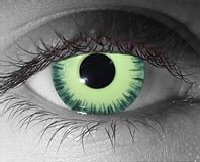 Louis Interview with a Vampire Contacts
$29.99
These fantastic lenses re-create the Tom Cruise/Brad Pitt vampire look as seen in Interview with a Vampire.
They are available in both plano and prescription form for short-sighted people up to the power of -6.0. They have a base curve of 8.6 and a diameter of 14.5.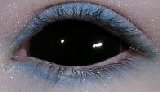 Black Sclera custom lens

$129.99 at Vision Direct
The black sclera is one of the most popular and affordable custom sclera lenses on the market and covers just about any vampire character in the movies. Pop in a pair of these scary contacts and you are sure to shock and terrify party guests!
This all-black lens is available in both plano (zero power) and prescription form from -7.0 to +4.0 for both short and long-sighted people. Diameter is 22.0 and base curve 9.0.
Check out the full range of movie contact lenses from our
trusted partner
for more wacky prescription and non prescription comfortable contact lenses in lots of different colors and styles.
Related pages: