Color Contacts for Dark Eyes
Find the right color contacts for dark eyes - opaque lenses that completely change your eye color.
If you have dark eyes like deep brown, green or dark gray, then color enhancing lenses won't work as the natural eye shade will not show the color.
That's why dark eyes need opaque color contact lenses that completely change the color of the eye.
Those with pale eyes can, of course, wear them too although some people may find the effect is too stark and unnatural.
Opaque Color Contacts
Wearing colored lenses is so fashionable right now that all the major brands offer a good selection of easy to wear, affordable colored contacts - easy because they are available as soft disposable lenses. It's a far cry from a few years back, when the only way to change your eye color was to order a pair of custom made lenses at a hefty price.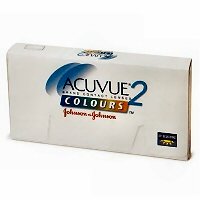 Acuvue 2 Colours Opaques

from AC Lens.
Some of the most popular colored contacts currently available for dark-eyed patients are Acuvue Colours - Opaques
from Johnson and Johnson, Freshlook Colorblends
from Ciba Vision and Expressions Colors
from Cooper Vision.
All can be bought with good discounts online for around $30 per box of 6 lenses - make use of coupon codes
to get even bigger discounts.
They are popular as they are disposable with wear times from 1 to 2 weeks or even continuously for a maximum of one week.
Acuvue Color Contacts for Dark Eyes
Although I have never worn opaque color contacts, if I did I would definitely choose Acuvue as I know how comfortable their Advance Hydraclear lenses are. Acuvue Colours Opaque contacts for dark eyes are currently only available with a base curvature of 8.3 and my prescription is 8.7.
That means I wouldn't be able to wear opaque lenses from Acuvue as they wouldn't fit correctly on my eye.
Just as well my eyes are pale blue then eh?
For the fashion conscious person with perfect 20-20 vision, this can be a stumbling block too as they may assume they can just buy colored lenses off the shelf or rather the internet, just like a new pair of shoes. In reality, they must still visit an optician FIRST to have their eyes both tested for contact lens wear and most importantly to get the lenses FITTED.
If you suffer from astigmatism as well as being short or long sighted
you can still wear colored lenses;
they are just more expensive as, with the exception of
Freshlook Colorblends Toric,
the mainstream brands of color contacts above do not have an astigmatism option...yet.
Related pages: