Acuvue Advance Contacts
Buy Acuvue Advance contacts, a great value extremely comfortable 1-2 week disposable contact lens.
I've been wearing Advance Hydraclear lenses from Acuvue, made by Johnson and Johnson, for the last 6 years.
They are really really comfortable and are great for someone like me who does a lot of sport and who also spends quite a bit of time sitting at a computer screen.
Whether it's sweat pouring down my face or just dry eyes, a common symptom of staring at a PC for too long, my disposable Acuvue soft contact lenses do the job.
Disposable Soft Contact Lenses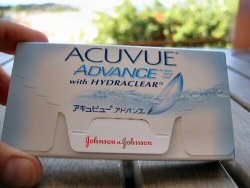 Acuvue Advance Hydraclear
Just $18.45 per box
Acuvue Advance contacts with Hydraclear
are advertised as a weekly disposable lens, but they can also be worn for up to 2 weeks, if prescribed by your optician.
Acuvue's patented HYDRACLEAR technology combines a silky-soft moisture-rich wetting agent together with high-performance silicon hydrogel to give a supremely comfortable lens, all day long.
The lenses are very smooth, easy to insert and they allow 97% of available oxygen to get through to the eye for comfortable vision at all times.
They are also lightly tinted blue, so it's easy to spot them in the lens case or if you drop them on the floor - provided the floor isn't blue of course!
NB: My optician told me I could wear Acuvue Advance contacts for up to 2 weeks. On average I probably change them every 10 days; when I can "feel" my lenses in my eyes, I know it's time to pop in a new pair.
Buy Acuvue Advance Online
Acuvue Advance are one of the most popular and economical 1-2 weekly disposable lenses you can buy. You can get great discounts by purchasing at least 4 boxes, plus additional discounts by using coupon codes like these from AC Lens.
I'm always checking prices to get the best deal, especially as I order a year's supply in advance to get the best shipping deal. The best price I've found (as at July 2011) is $18.45 per box for a minimum order of 4 boxes.
This $18.45/box of 6 Acuvue Advance Hydraclear contact lenses deal is available from both AC Lens
and Discount Contact Lenses.
Tip:
I just switched my annual order to Discount Contact Lenses as I got an
extra 10% off coupon code as a first time buyer.
Related pages: